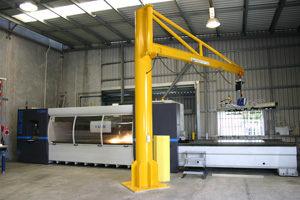 Company Profile
In 1995 Barry Watling, along with wife Jenny and son Scott established Barry's Metal Works to provide a new level of service and quality to the sheet metal industry on the Gold Coast.
With over 35 years of fabrication expertise at the time, Barry built and established a new factory premises in Molendinar with the view to expanding the business as the opportunity presented itself.
In 2004 Barry's son Scott came on board in a full time capacity, following 15 years in the consulting Civil Engineering sector which saw him working with major Engineering firms on the Gold Coast, London and Melbourne.
Scott was also a part-time lecturer of Geometric road design at Gold Coast Institute of TAFE. Having this background made our next expansion into laser cutting an obvious choice.
Early 2007 saw the family business invest in a state of the art, 4Kw LVD laser cutting machine, to boost production for the core Sheet metal fabrication business as well as fill a void within the Laser Cutting industry on the Gold Coast.
Although Barry is now mostly retired, we still drag him off the golf course every now and then, to benefit from his valuable 50 years of knowledge and experience in the industry.
Barry's Metal Works and Barry's Laser Cutting now employs over 10 full-time, highly skilled tradespeople, apprentices and office staff at their premises in Molendinar.